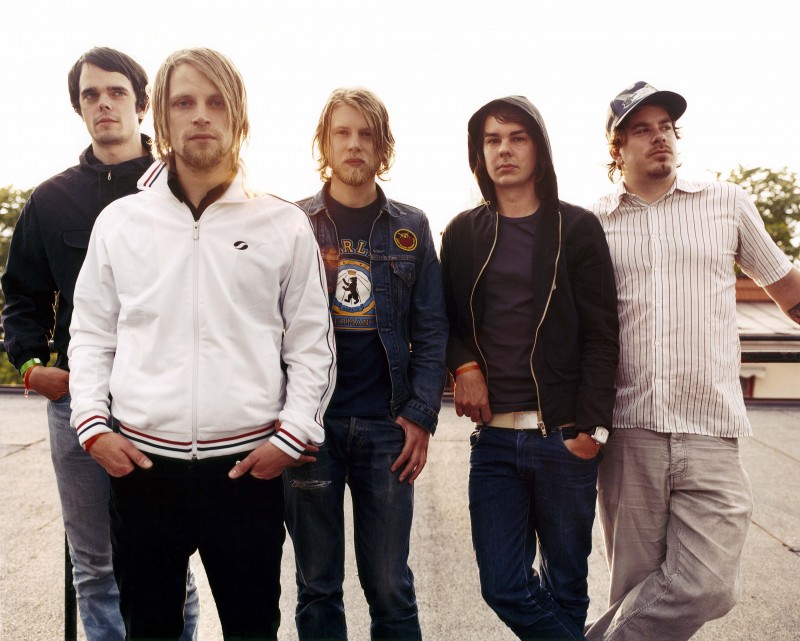 Fireside are celebrating their 11th year together with their 6th album, 'Get Shot'. All of their albums have explored different musical boundaries and 'Get Shot' sees this evolution continue. So what is this fearsome quartet from Sweden's Northern Hemisphere all about, and why pray, are they deserving of your time?
It all started in the early nineties when several bands in Sweden (especially in the North) formed the hardcore scene which became a strong and vital force both domestically and internationally. Fireside was one of the leading bands of this movement which also included Refused, Randy, Breach and Him Kerosene. In 1994 Fireside's debut "Fantastic Four" was released in the US, Japan and Europe. In 1995 the groundbreaking album "Do Not Tailgate" won them a Swedish Grammy, saw them get signed to Rick Rubin's American Recordings and turn their track "Kilotin" into a monster hit. They played showcases in NYC, LA and Florida and there was a lot of talk of them being the next big thing – and this long before the 'Scandinavian "rock" Invasion' was a term of any credence. They did several US tours that culminated with the prestigious Lollapalooza tour. Europe saw them supporting Fu Manchu as well as doing several headline tours. Album # 3 "Uomini D'Onore " was a top 10 hit and steady touring kept them busy throughout 1998, but not so busy that they didn't have time to assemble all their b-sides and record cover versions of some of their favourite tracks for release as the double CD "Hello Kids". Kristofer also made 1998 the year when he embarked on his side project Kristofer Åström & Hidden Truck with the blissfull "Go, Went, Gone" album that amazed Fireside fans and revealed Kristofer's talents as a singer-songwriter.
In 2000 the band's desire to experiment in the studio created a large, ambitious and innovative album – "Elite". This was very different to their previous releases and included everything from semi-alternative country track "Elevator Action" to the 12-minute long instrumental "Elite". While some cheered and hailed it as a huge milestone recording, others were nonplussed. It was the first Fireside album that didn't get released on the Western side of the Atlantic.
Thus here we are in 2003 and the band are back after 3 years. During this time they haven't decided to trade their instruments for wheelchairs, have licked their wounds after the apparent commercial failure of "Elite" (you ask any member today and they still think it is a masterpiece…they're right!), haven't taken anything close to day jobs or decided to become music publishers (seemingly something that many "has been" musicians are doing). Instead Pelle Gunnerfeldt is a big-name producer as a result of his contribution to The Hives' international success and an ever-growing list of credits that includes Entombed, Spain and Randy. Frans Johansson has been a stand-in member for Kalle Gustafsson in The Soundtrack of Our Lives on many of their tours including the one with Oasis in the US. Per Nordmark is one of the in demand drummers in Sweden – constantly on the road or in a studio somewhere but most notably with Breach and with label mate Christian Kjellvander. Kristofer has released two more albums and an EP with his band Hidden Truck (of which Per is also a member) and has toured Europe on several occasions, been up for a Swedish Grammy and has even had his music included on American TV teenage sitcoms!
So what about this new album 'Get Shot'?
Well for a start it rocks hard. Brilliant tracks such as "All You Had", "Betrayer", "Follow Follow" and "Throw It Away" prove that Kristofer can still write a lyric as direct as a go straight to jail sign and Pelle can create noises at once disturbing and tantalising. Frans' bass line runs throughout like a pulsating artery while Per's drumming seals the delivery with each pounding beat. In short, 'Get Shot' confirms Fireside's position within (Swedish) rock history.
A different approach was taken to the making of this album. Recording began with no demos as a basis from which to work and significantly, for the first time they brought in an outside producer – Kalle Gustafsson Jerneholm (The Soundtrack of Our Lives) who is now officially the "fifth brother" of the band. The sessions took place in studios all over Sweden and mixing was also scattered between Medley Studios in Copenhagen with Michael Ilbert (The Cardigans, Roxette, The Wannadies) and Abbey Road in London with Guy Massey (Spiritualized, The Manic Street Preachers) and at Pelle's very own Studio Gröndahl.
Videos
ARVE Error: Mode: lazyload not available (ARVE Pro not active?), switching to normal mode
ARVE Error: Mode: lazyload not available (ARVE Pro not active?), switching to normal mode
ARVE Error: Mode: lazyload not available (ARVE Pro not active?), switching to normal mode