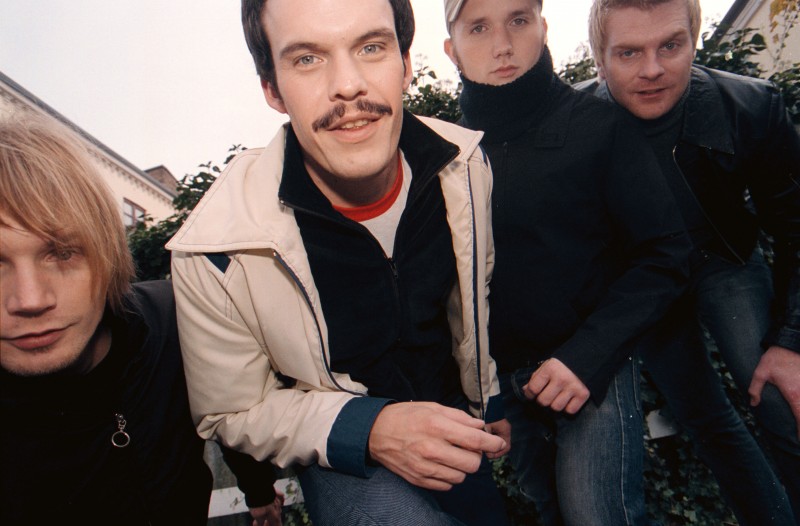 Revolvo was formed in Malmö, December 1997. At this time songs were basically existing , but since the members came of differing musical backgrounds the sound felt somewhat indistinct.
In order to "tighten up" and to find a more distinct sound, the band booked Tambureen Studios for a weekend. The result of this was a recording scented with Swervedriver and Sonic Youth, but with a song structure feeling much more "pop". The songs "In a vault" and "Tricker" were a couple of months later released on a white vinyl 7″, at the record company 7″ Layer Recordings.
The single could be heard in P3 Rock, and it gave the band a gig at the demo scene on the Hultsfredsfestival of -98. In January -99 a contract with Startracks publishing/Warner Chapell was signed. The following summer a new demo was recorded, this time with the producer Thomas Skogsberg, in his Sunlight Studio. Skogsberg was chosen because of his experience of heavy rock (Entombed, Hellacopters and others). Heaviness and rawness were something the band at this time was lacking. Two of the songs were later released on a split single and released by the record company Chalksounds situated in Umeå.
After a gig at Emmabodafestivalen that same summer, the band got in contact with the producer and guitarist of Fireside, Pelle Gunnerfeldt. He offered them to record an album at his studio in Gröndal in Stockholm. Impressed with Pelle's job with his own band Fireside, and his recordings of others, Revolvo was not late to accept the offer! To finally get enough time in a studio and to have someone like Pelle behind the wheel were things the band had dreamt of a long time.
With their roots in the British indiepop of the late 80's and the American rock sound of the early 90's, and with a fascination for elektrorock and contemporary elektronical dance music, Revolvo provides you with an album which is lapping of stereo delayed Rhodes pianos, roaring from oversteered farfisa organs, and which gently strikes with a lonely cello. In short, an exciting rockalbum which pulls no punches.
Spotify
Videos
ARVE Error: Mode: lazyload not available (ARVE Pro not active?), switching to normal mode