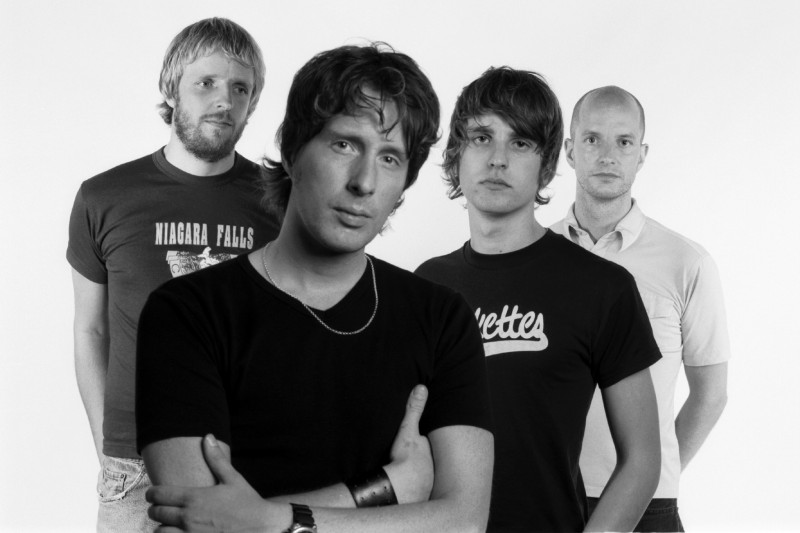 Half a minute into the opening track you suddenly realise: "Song of Songs" is Starmarket's biggest moment ever. And the rest of the record is nothing but a triumph, until the last notes of the gigantic "1984". If you haven't discovered Starmarket's talent yet, listening to "Song of Songs" will make you. Here you'll find more classic songs than most bands make in a lifetime.
While their last album, "Four Hours Light" was a product created during a long studio session, "Song of Songs" can be described as a reaction towards slick and overproduced arrangements. It is almost entirely recorded live on the first take. Early on, the band decided that the goal of the recordings was gonna be to have as much fun as possible, and replace perfectionism with spontaniousness.
– Usually we know exactly what to play on each song when we enter the studio. Now we had reached a point where we could relax and trust in the original power of the songs. For example, before a take I could say: "I don't feel like playing guitar on this song, I wanna play on this Casio-synthezizer instead". Then my brother or whoever was in the studio at that moment got to play the guitar instead of me, says Fredrik Brändström, singer and guitarplayer in Starmarket.
Apart from Fredrik's brother, Johan, who usually play in another swedish band named Randy, Johan Gustafsson (also in Randy) has helped out as an extra musician to a great extent. The record is recorded and mixed by Pelle Gunnerfeldt, who has also created the sound for bands like The Hives and The International Noise Conspiracy, to name a few.
"Song of Songs" is original in the way it avoids any common references that usually comes up when an indierock-band release a new record. If you tell the band that "Mexico Summer" sounds like "Sultans of Swing" by Dire Straits, I'm sure that they will be happy even if you meant to tease them.
If you have ever made out while dancing to Wham's "Last Christmas" or Prince's "Purple Rain", I can guarantee that you will enjoy "1984", even if the long, dizzy outro probably reminds you more of the time you threw up after the school dance. It's all about classic popsongs, but there is always something ugly present, which keeps the music from being slick and uninteresting. It is this combination that makes "Song of Songs" such a great album.
Patrik Bergman: bass/vocals
Fredrik Brändström: guitar/vocals
Jesper Löfroth: guitar
Pontus Levahn: drums
Spotify
Videos
ARVE Error: Mode: lazyload not available (ARVE Pro not active?), switching to normal mode