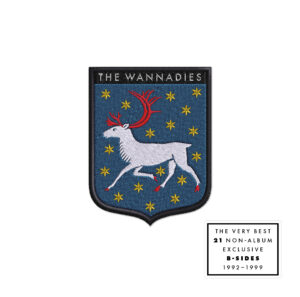 Spotify
No digital release
Tracklist
| | |
| --- | --- |
| Pathetico | 2.17 |
| Crucify Me | 5.04 |
| Are You Exclusive | 2.50 |
| Lift Me up (Don't Let Me Down) | 2.46 |
| I Like You A Lalalala Lot | 2.12 |
| Taking the Easy Way Out | 4.39 |
| Why | 2.51 |
| (Yeah Yeah Yeah) In Your Face | 2.59 |
| Trick Me | 2.55 |
| Everybody Loves Me | 2.40 |
| Let Go Oh Oh | 2.46 |
| As If You Care | 2.31 |
| Love and Hate | 4.17 |
| Can't Get Enough of That | 5.08 |
| Princess Spoon | 4.17 |
| Birds | 2.00 |
| Love Is Dead | 2.37 |
| After All | 4.12 |
| That's All (Version) | 3.24 |
| Shorty (Version) | 4.54 |
| You and Me Song (Version) | 4.06 |
| | |
| BONUS 12″ Vinyl | |
| Lee Remick | 2.55 |
| Blister In the Sun | 2.31 |
| | |
| I Got A Right | 1.59 |
| Short People | 2.57 |
Infos
Cat. No: STAR 309179
Released: 2022
Liner Notes
21 tracks, 71.30 minutes of bliss. 21 non-album exclusive b-sides, bonus tracks now for the first time on one compilation. "b-sides" in the 90's was not taken lighlty, this is some really good stuff.
No download/stream release. Most of the tracks are not availble online today
Gatefold sleeve. Printed innersleeves. Black vinyl.
Limited Edition 500 copies worldwide, one pressing only. Will not be sold seperately. Comes in a black discobag. Not printed. Inserted in the gatefold, shrinkwrapped
Video
Playlist of the 21 2Lp/CD tracks
Västerbotten 2LP/CD with the very best 21 non-album exclusive b-sides 1992-1999 – YouTube