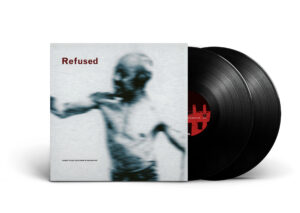 Spotify
Tracklist
| | | |
| --- | --- | --- |
| A1 | Rather Be Dead | 03:15 |
| A2 | Coup D'Etat | 02:40 |
| A3 | Hook, Line And Sinker | 02:45 |
| A4 | Return To The Closet | 03:49 |
| A5 | Like Support Addiction | 02:27 |
| A6 | It's Not O.K… | 01:02 |
| B1 | Crusader Of Hoplessness | 02:50 |
| B2 | Worthless Is The Freedom Bought… | 01:32 |
| B3 | This Trust Will Kill Again | 02:22 |
| B4 | Beauty | 02:30 |
| B5 | Last Minute Pointer | 02:55 |
| B6 | The Slayer | 02:16 |
| | | |
| C1 | Rather Be Dead | 2.19 |
| C2 | Beauty | 2.32 |
| C3 | Coup d'état | 2.42 |
| C4 | It's Not O.K… | 1.02 |
| C5 | Crusader of Hopelessness | 2.51 |
| C6 | Life Support Addiction | 2.27 |
| | | |
| D1 | The Slayer | 1.56 |
| D2 | Da Message | 2.26 |
| D3 | Hook, Line and Sinker | 2.27 |
| D4 | This Trust Will Kill Again For You | 2.21 |
| D5 | Circle Pit | 2.16 |
| D6 | Return to Frankenstein | 2.52 |
Infos
Cat. No: STAR 438-8
Released: 2022
EAN: 7340169407177
Liner Notes
25 years of SONGS TO FAN THE FLAMES OF DISCONTENT
Limited to 1000 copies (700 in black vinyl/300 black/curacaoblue). 2LP Including bonus LP w/ outtakes and demos unreleased versions of "Hook, Line and Sinker" and "This Trust Will Kill Again" (with Dave Exit on vocals) and: "Da Message" a previously unreleased song. Vinyl only, the demos will not be not available for digital release.
Comes in gatefoldsleeve with photos, posters, flyers printed on the foldup. Innersleeve on the bonus LP have long and detailed linernotes about the bonus songs by Dennis and David.
The tapes have been carefully restored and then mastered and sounds great. What they lack in soundquality they easily gain in energy. A unique insight in what would lead up to the classic 1996 Album, Songs To Fan the Flames of Discontent.
Video