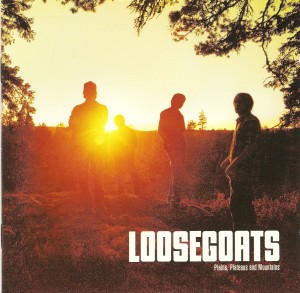 Spotify
Tracklist
"Adversity" – 4:31
"Casillero del Diablo" – 4:04
"Juan de Fuca" – 3:44
"STT" – 4:12
"A Mother's Cry" – 5:02
"Sacred Ground" – 3:52
"Palace of Dynasty" – 4:09
"Indian Eagle" – 4:19
"Oakbridge" – 3:25
"Broken Bay" – 4:22
"Feeling Deluxe" – 3:53
"Lizard Sheet" – 3:33
"New Season" – 4:35
"Stum Mountain Man" – 11:24
Liner Notes
Christian Kjellvander – sång, akustisk gitarr, elgitarr, orgel, äggskallra, körsång, piano, bas, munspel, triangel, banjo.
Magnus Melliander – elgitarr, slidegitarr, lap steel, mandolin, akustisk gitarr.
Johan Hansson – trummor, körsång, timpani, percussion.
Anders Tingsek – bas, körsång, äggskallra.
Erik Hjärpe – orgel, piano, hammondorgel.
Martin Johansson – pedal steel.
Mark Haines – tamburin.
Johanna Dahl – cello.
Lotten Zimmergren – cello.
Ylva Wålstedt – viola.
Åsa Johansson – violin.
Charlotte Cederblom – fiol.
Sally Timms – körsång.
Produced by: Brian Paulson and Loosegoats. Recorded at Silence Studios, Koppom, Sweden. Additional recording and engineering by Hasse Asteberg at Bauhaus Studios, Gothenburg. Mixed by Brian Paulson and Mark Haines at Smart Studios, Madison, Wisconsin, USA. Mastered by Scott Hull at Masterdisk, New York USA. String arrangements by Paul Bothén.