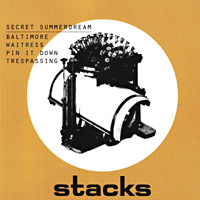 Spotify
Tracklist
1. Baltimore
2. Waitress
3. Pin it down
4. Trespassing
Infos
Cat. No: STAR 6024
Released: 1997
EAN: 841103136024
Liner Notes
Music by H. Lokind
Lyrics by P. Niemi
Produced by STACKS
Commited to record by Per Nylén at Janik Studios during Aug 1997.
Mixed by Niklas Sjöberg at Air Play Studios Sep 1997.
Mastered at Polar Studios by Mia Lorentzon Oct 1997.
Electric Bassguitar on all tracks by H.Lokind
Piano on Baltimore by Jan Ericson. Trumpet and french horn by Magnus Johansson.