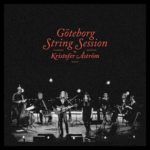 Kristofer Åström – Göteborg String Session Live Vinyl LP + DVD (nov 18)
This is a exclusive concert he did with musicians from Göteborg Symphonic Orchestra. 400 LP and comes with the full concert on DVD. Kristofer's will play three extra ordinary shows in november, 4/11 Kulturens Hus, Luleå 9/11 Södra Teatern, Stockholm 11/11 Stora Teatern, Göteborg long shows with material from his entire career to support this release.
DVD (90.21 min) with one soloset and one with musicians.
She Came With A Friend Of Mine, How Can You Live With Yourself?, 8 Long Years, Can You Imagine?, Poor Young Man´s Heart, The Wild, For You, Twentyseven, Fallen, The Last Bonanza, What If I Can't Love You Enough?, Queen Of Sorrow, One Good Moment, Hard To Live, Is It Really Over?, Still Miss, Come Summer (Come Standing Outside Your Door), All Lovers Hell, One More Drink
Vinyl (50 min) this is all versions with musicians from Göteborg Symphonic Orchestra
The Lost Bonanza, Poor Young man's heart, The Wild, Twentyseven, Fallen, What If I Can't Love You Enough?, Queen of Sorrow, One Good Moment , Still Miss, All lovers Hell , One More Drink
This Album is already out online Spotify –  iTunes – Deezer