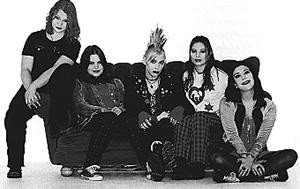 Swedish band Candysuck (from Västerås) existed during the years 1992 – 1998.
The controversial title track from their 1995 E.P. "Kill Your Boyfriend?!" resulted in lots of media attention, but it was not so much the controversy as their great live performances that built their status as one of the most interesting bands on the alternative scene at the time. On stage they were aggressive, energetic, unpredictable and funny in a way that lacked competition. Sometimes dismissed as a simple punk band, for anyone delving a bit deeper they proved to be so much more. Intricate guitar duelling and pop melodies with elaborate vocal harmonies on top of punk speed and attitude all blended perfectly together.
Today, Marit Bergman is a successful solo artist who recently released her third album. Nathalie Stern is part of the British duo Lake Me. Daniel Värjö is a member of The Concretes as well as The Soft Eyes and also serves in Marit's backing band. Pez has played with The Graveburries. Anna-Lena has "retired" from music.
Discography:
Kill Your Boyfriend?! (E.P. 1995, Birdnest Records)
Popcorn/Protect Me You (Single 1996, Startracks)
Generator (track included on V/A album Fuck Hell: This is a tribute to Bad Religion, 1996)
Score! (Album 1996, Startracks)
Score! (Japan release incl. 3 bonus tracks, 1996, Startracks)
Discharged/Fire (live) (Single 1997, Startracks)
Candysuck Unite And Take Over (E.P. 1997, Startracks)
Candyboy (track included on V/A album Gränslösa 99 … och lite till, 1999)