Vasas flora och fauna ger ut dubbelsingeln "Rin Tin Tin".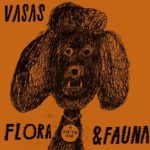 Det är ingen hemlighet att Vasas flora och fauna står i viss skuld till det finska kultbandet Leevi and the Leavings. Vasas flora och faunas debutsingel bar gruppens namn, och 8/11 kommer dubbelsingeln "Rin Tin Tin / Laura Jenna Ellinoora Alexandra Camilla Jurvanen", som är svenska versioner av två av Leevi and the Leavings kändaste låtar.
– Det är översättningar, rätt och slätt. Det här är inget "Så mycket bättre", vi har inte gjort några fräcka tolkningar. När det gäller Leevi and the Leavings har vi inga sådana ambitioner, vi är helt undergivna på det sättet.
Leevi and the Leavings grundades 1978 och splittrades 2003 då gruppens sångare Gösta Sundqvist dog i en hjärtattack. Gruppen hade då kommit att bli en av Finlands mest älskade, och kultstatusen har höjts ytterligare sedan dess. Bandet gav ut hundratals låtar men turnerade aldrig. Vasas flora och fauna är de första att ge ut Leevi and the Leavings-låtar på svenska.